Plastic Bag Ordinance Update: Victory!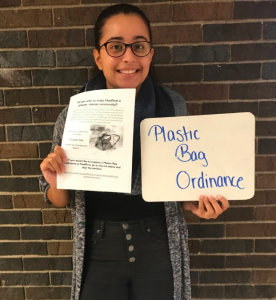 Last year, Medford's city council unanimously supported a motion to draft a plastic bag ordinance started by Rubia Fernandes. Fernandes started an online petition in her junior year, which has amassed over 600 supporters
After a year of working on this project, the ordinance has made significant progress, getting an official signature from Mayor Stephanie Muccini Burke on January 23rd.
"I personally care about the environment a lot, and have taken notice of the actions that other communities took to reduce the amount of waste that they emit into the environment," Fernandes said at the meeting.
A summary of the Plastic Bag Ordinance and the discussion held at the City Council meeting can be found at Wicked Local.
The council has confirmed they will take action to determine the details for implementation of a plastic bag ban ordinance, following suit of other cities, such as Cambridge and Melrose's and their own plastic bag ordinances.
---