The Mustang Way Assembly
The CCSR recently held their first annual Mustang Way Assembly on February 13th at the McGlynn Middle School and on March 6th at the Andrews Middle School. Facilitated by Michael Skorker, the CCSR Director, with the help of McGlynn Middle School's CCSR Advisor Meghan Olsen and the Andrews Middle School's CCSR Advisor Ms. Pourali-Bacon, the assembly was a success.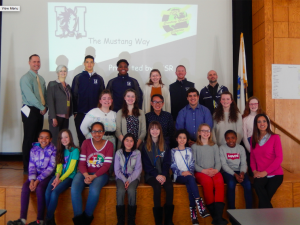 The 6th-grade students were quiet and attentive as Seniors Marco MacElhiney, Maya Gomez, Willa Driscoll, Darwin Do, Anderson Larosiliere, Thiago Andrade, Hannah Rogers, Jasper Su, and Junior Rachel Dakermanji were keynote speakers during the presentation, addressing the importance of the Mustang Way. The students covered the topics of anti-bullying, sexuality, the careful use of technology, and treating everyone equally.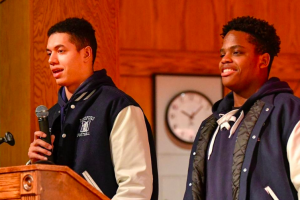 We have everyone's backs. When you are a Mustang, there is no place for bullying and hate. We are each other's sisters and brothers. We stand up to bullying. We are all Mustangs" – Thiago Andrade.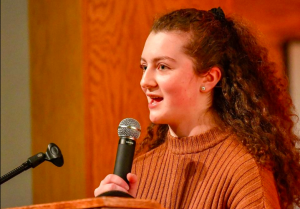 "The Mustang Way is a mindset. Be kind to your neighbors. Empower those around you. Think outside of yourself. Be kind to all, even if they don't look like you. We are all human"                                  – Rachel Dakermanji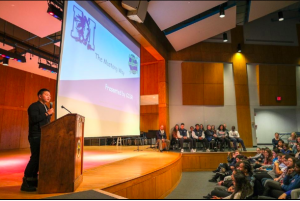 "The Medford Public Schools and the Center for Citizenship and Social Responsibility strive to create positive contributors to society who seek to make the world a better place, and we feel that assemblies like 'The Mustang Way' help us to achieve this goal." – Michael Skorker
The CCSR hopes to return next year and make the assembly an annual tradition for all 6th graders across the Medford Public School system.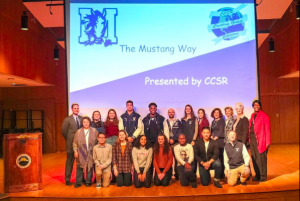 Thank you to McGlynn Middle School Principal Diane Guarino,McGlynn Middle School Assistant Principal Jody Liu, and Andrews Middle School Principal Mr.Downs for allowing the CCSR to come
Also, a huge shout out to Superintendent Dr. Marice Edouard-Vincent, Associate Superintendent Diane Caldwell, Mayor Stephanie Burke, and Stacy Schulman, Supervisor, Clinical and Behavioral Services for attending.
---