CCSR Winter Session
What an awesome end to our Winter Session here at CCSR! Becca Toltz, Volunteer Coordinator at Northeast Animal Shelter in Salem, came in person to accept the multitudes of donations that many of our groups had spent the last several weeks hand-crafting! She was overjoyed when she saw that we had made "snuffle mats" (1st picture), a dog toy that you can hide treats in for the dog to sniff around and find. Becca told us about the shelter's plans to create a new playroom for the dogs, and she said these snuffle mats would be a perfect addition to this space!
Another group had made dozens of construction paper fans (2nd picture) for cats to play with! They attach to the bars of the shelter cages, and cats can bat at them and scratch at them! Becca told us that she would soon be making a trip to Georgia to rescue dozens more homeless cats and kittens, and now each of them will have their very own fan toy waiting for them when they arrive at the shelter!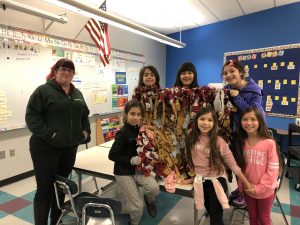 Another group made fleece pet beds, to keep the animals comfy in their cages and in open play spaces. And a 4th group created and sent home a flyer encouraging people to adopt pets from the shelter. Needless to say, Becca returned to the shelter with a very full car, brimming with hand-crafted toys and supplies for the needy animals she works with every day!
---