Shanghai Moon Painting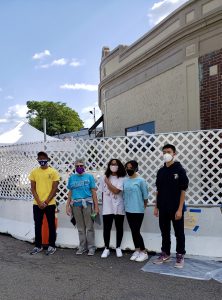 Students from the Center for Citizenship and Social Responsibility (CCSR) at Medford High School have added their own unique beauty and whimsy to the jersey barriers surrounding the outdoor cafe at Shanghai Moon restaurant in Haynes Square. Working together on two afternoons, five students painted all seven jersey barriers with flowers and butterflies. The traffic-facing color scheme of black, red, and white echoes the logo of the restaurant, and the inside dining area evokes the warmth and lightness of summer days. The idea for this project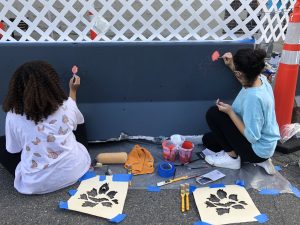 originated with CACHE in Medford and the Medford Chamber of Commerce, and the painting sites are being managed by ArtsMedford, a community organization supporting artists and community. We are grateful to have received funding from the MassDOT Shared Streets and Spaces Grant program via the Medford Office of Community Development. Thanks to the Medford Chamber of Commerce and the Mayor's office for their collaboration, as well as Modern Hardware on Salem Street for supplying all the paints, brushes, and other tools for the project.
 In coming weeks this team plans to paint jersey barriers at three other Medford restaurants: Salvatore's (Medford
 Square), Oasis (Main Street), and Bistro 5 (West Medford).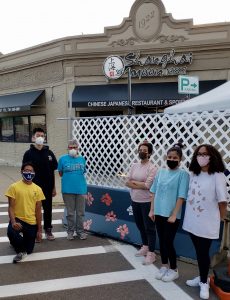 ---