Young Leaders' Voices
Thank you so much to Senator Jehlen for including us in her e-mail newsletter!  We are so grateful and appreciative!
Dear Neighbors,
This is the first of a set of newsletters about education.  In this season of hope and renewal, it features the voices and work of four groups of young people I find inspiring.
SOMERVILLE HIGH STUDENTS ON CABLE TV SHOW
Last week, Joe Lynch and I hosted three Somerville High students on our cable show at the Somerville Media Center.
Jace Connolly is a freshman who works with Teen Empowerment.  Joao DeOliveira is a senior who works with LIPS (Liaison Interpreter Program of Somerville, part of the Welcome Project).  Kate Johnson is a junior who works with Somerville Positive Forces (part of Somerville Cares About Prevention).
You may be surprised at some of their experiences and insights.  You can watch and listen to the half hour show on YouTube.  It will also appear on Tuesday at 2:30 and Wednesday at 6:30 on cable Channel 3; here is the schedule for other times.
WINCHESTER HIGH SCHOOL CHORUS' MOVING PERFORMANCE OF "ONE CANDLE"
It's very hard to make music together while separated physically.  Winchester High School's H.E.A.R.T. (Honesty, Expression, Acceptance, Respect, and Teamwork, together) Choir Chorus presented their first virtual performance of "One Candle" by Andy Beck under the direction of Joel Buford.  It is a truly beautiful perfomance, so appropriate and moving for our times, or perhaps any time.  I know you'll enjoy and be moved by it.
MEDFORD STUDENTS PRACTICE SERVICE, CITIZENSHIP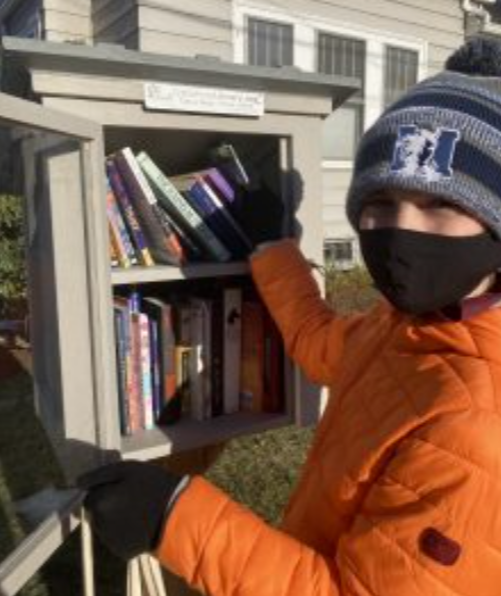 Over 1500 students have participated in Medford's Center for Citizenship and Social Responsibility program (CCSR), which helps students take on projects that improve their community and the world.  This is the best kind of civics education.  When students learn that they can make a difference and how to work together, they gain confidence and habits of participation and leadership.
You may have read about the two students who proposed a 3D crosswalk to slow traffic; those crosswalks were so successful they're now installed at every Medford elementary school.  So many amazing projects are showcased each year in a fair.  This year, the program continues, but the fair is virtual, so you can view many of the projects here.  For example, sixth grade students collected 249 books age-appropriate for middle school students and put them in Little Free Libraries around Medford, as shown in the photo above.
Learn more in this Tufts Now article and on the CCSR website.  I hope many more communities will follow Medford's lead as they develop their civics programs in response to the 2018 state law requiring civics education and the opportunity for student-led civics projects.
CAMBRIDGE RESIDENT LEADS LOWELL STUDENTS TO WRITE BOOKS ABOUT IMMIGRANT EXPERIENCE AND MORE
Jessica Lander of Cambridge teaches US history and civics at Lowell High School to students from about 30 countries, most of them recent immigrants or refugees.  The students in her American Diversity seminar have written and published books – We Are America Too and We Are America Lowell 2020 – using their own stories to explore what it means to be American.  .
Jessica says, "Schools tend to focus on big history — wars, movements, Supreme Court cases — which is incredibly important, but at the same time, big history is made up of individual stories. I wanted my students to understand their history as important to study."
Eighteen of the students are working with Jessica on a national project, helping teachers around the country launch similar work.  They write that the goal of the We Are America Project is "to help spark a new national conversation around what it means to be American, and we want that conversation to be led by our generation."
You can learn more, listen to some stories, and order books on their website, or read this article.
These wonderful young people and many others give me hope for the future.
I'll be writing more soon about education issues soon, but it's so important to listen to the experts who spend their days in schools: students and educators.
---