Acceptance Video
Acceptance means something different to everyone, but it is a universal concept. The CCSR is asking students to answer the following question: "What does acceptance mean to you?" Submissions from students will be put into a video that will accompany a mural about disability acceptance, which can be found outside of Cafeteria 2.
Although the mural is about disability acceptance, your submissions can be about any kind of acceptance. Submissions can be one of three forms: 1) a written response; 2) an audio recording; or 3) a video. Submissions must be sent in by Friday, June 4th. All students from MHS are welcome to send something in!
If you have any questions, feel free to email them to cyamamoto23@medford.k12.ma.us!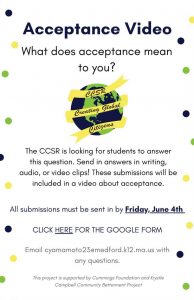 ---