Cummings Foundation Grant
Medford's Center for Citizenship and Social Responsibility Receives $350,000 Grant from Cummings Foundation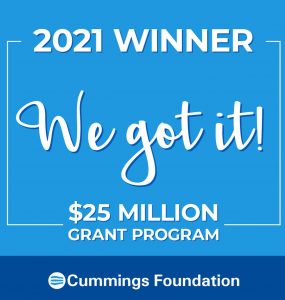 MEDFORD – Medford's Center for Citizenship and Social Responsibility (CCSR) has been awarded a 10-year, $350,000 grant from the Cummings Foundation as part of their $25 Million Grant Program, the City of Medford and Medford Public Schools announced this week. The grant will support the mission of The CCSR, which includes developing student leaders who work to make the world a better place by creating projects that benefit both the Medford community and the world. The CCSR is a district-wide after school program, part of the Medford Public Schools, which guides students in development and implementation of projects that benefit the community.
"The CCSR is an amazing program and has enriched the lives not only of the thousands of students who have come through the program, but also the Medford community as a whole. I am so thankful to Richard Trotter, Michael Skorker and the entire CCSR team, and I am proud of all that they and our students continue to accomplish. This grant will go a long way in supporting their mission and their ongoing work, and we are thankful to the Cummings Foundation for their support!"
"We are extremely grateful for the generous award from the Cummings Foundation which will allow us the continue our mission to make the world a better place to live," said CCS Director Richard Trotter and Lead Teacher Michael Skorker.
---