Medford CCSR Leads Veteran Headstone Cleaning Event: Honoring Korean War Heroes
Brooks School's 4th & 5th Grade CCSR Leaders Inspire Community to Support Veterans and Restore Neglected Monuments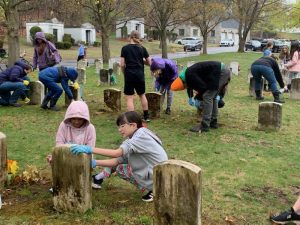 By Jonah Siegel – Medford High School – Class of 2025 Medford, MA – The Center for Citizenship and Social Responsibility (CCSR) led an inspiring community event at Oak Grove Cemetery, where 4th and 5th grade CCSR leaders from the Brooks School facilitated a headstone cleaning project in honor of Medford's Korean War veterans. Over 80 families participated in the event on Patriot's Day, April 17th, contributing their time and effort to prepare the cemetery for Memorial Day by restoring the monuments of brave soldiers.
The headstone cleaning project began when students at the Brooks School expressed a desire to honor local military veterans. They found inspiration from the nonprofit organization "By Memorial Day," which encourages patriotic volunteers to clean neglected veteran headstones in their local communities. With support from their CCSR advisor, Mr. Coates, the students obtained permission from the Cemetery Superintendent and Cemetery Board of Trustees, and gathered the necessary supplies to clean the marble headstones with the recommended D-2 Biological Solution.
Alice Grenham, a 4th grader at Brooks School, said, "I wanted to participate in this event to honor the people who served us in the Korean War. I had a relative who fought named Jeremiah Cotreau. Cleaning the veteran headstones is important because the soldiers should all be honored and remembered, even if they didn't die in the war. They all served a part."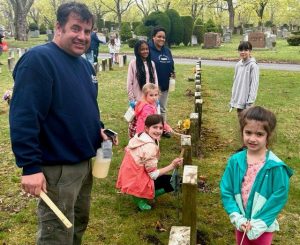 Cora Schuler, another 4th grader, added, "It's important for us to show respect to those that fought for our country. My great-grandfather served as an intelligence specialist. Doing this is helping our community because the stones need to be cleaned off, so we can read the names and find them."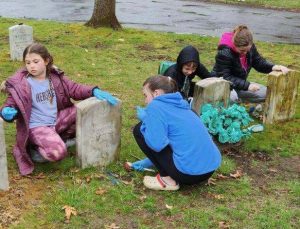 The CCSR leaders and community volunteers successfully cleaned all 112 Korean War veteran headstones in the cemetery, ensuring that the names of these heroes would not be forgotten. Despite the rain, the event saw an impressive turnout, as families worked together to honor and remember the veterans who fought for their freedom.
Mr. Coates, the teacher and CCSR advisor who oversaw the project, reflected on its importance and impact: "This was a very important project. Veterans' names reappeared as growth was washed away and the heroes of the past could once again have their names read aloud and not be forgotten. I believe the students left with a deep sense of appreciation."
---