We are living in a world that has many threats and challenges for us to confront and resolve. Issues such as opioid deaths, hatred, prejudice, addiction, bullying, mass murders, climate catastrophes, gender bias, suicide, voting rights, gun control, global warming, pollution, poverty, etc. There are many government and private programs that attempt to deal with these issues but the vast majority of these programs address the symptoms and not the root cause.
Since these are problems are created by people, we need to focus on the most effective way to prevent them. We believe that K-12 public school education provides us with the most effective place have a positive impact and influence on students. Most of traditional public school education is focused on content (academics) and very little on social-emotional learning (SEL).
In Medford, Massachusetts we have created an SEL program where K-12 students learn to be responsible global leaders/citizens. The Center for Citizenship and Social Responsibility (CCSR) was established in 2013. The mission of the CCSR is to develop responsible global leaders/citizens that will be positive contributors to society and will work to combat important social issues listed above and become leaders in our society. We believe by providing the proper learning activities, we can: prevent students from becoming addicted to harmful substances, develop positive self-awareness, encourage teamwork and cooperation, improve self-esteem and develop leadership skills.
We believe by incorporating real-life experiences (PBL) for students to work on projects to help others will have a lasting positive effect on their self-image and understanding of others. The Center is working with school administration to develop a system-wide initiative to integrate social-emotional learning, citizenship, resiliency and social intelligence into the district curriculum and activities.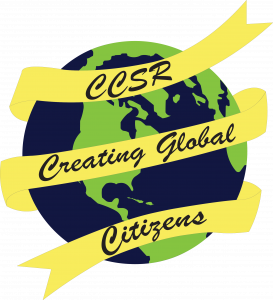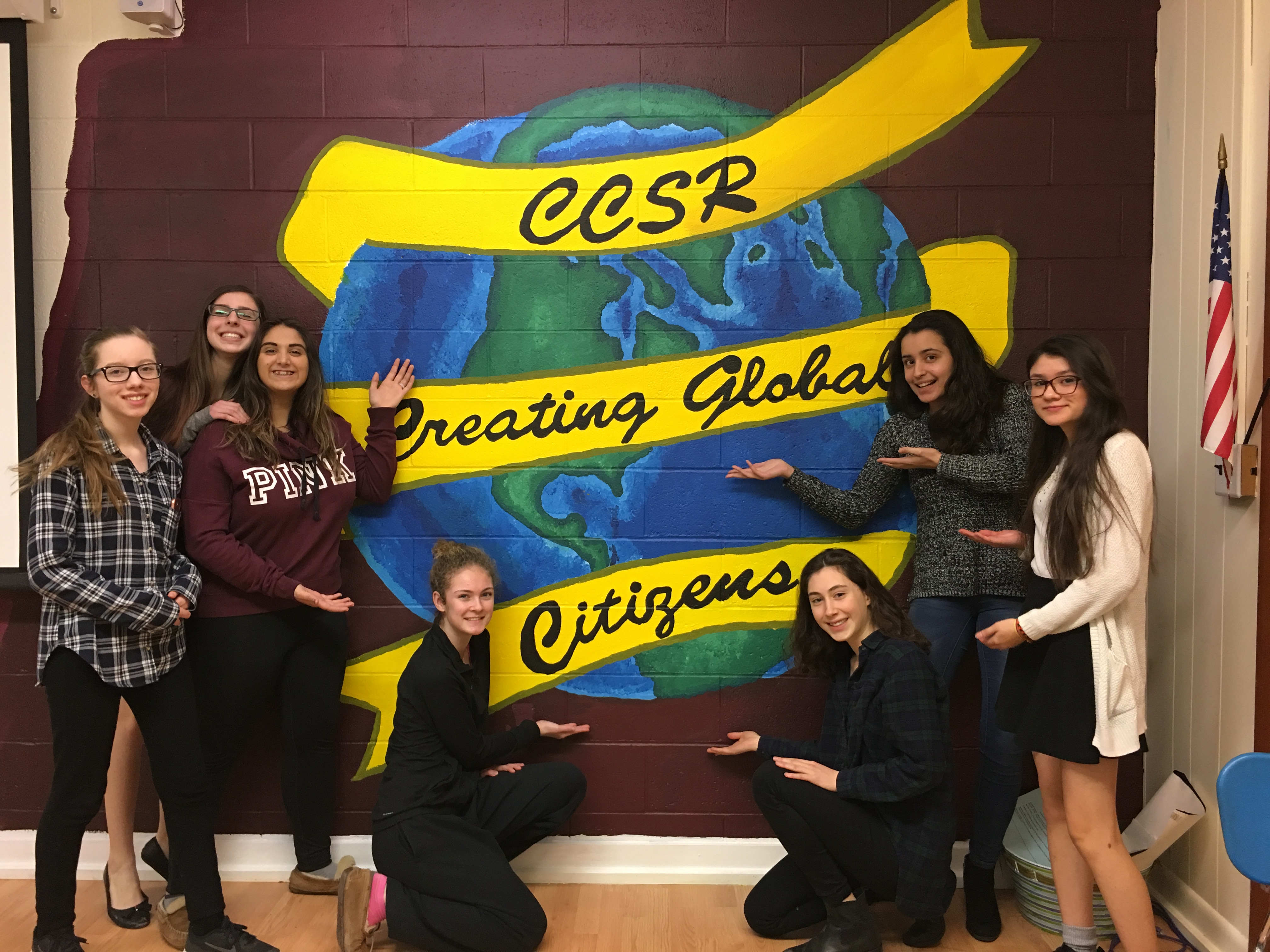 Over the past four years, over 1500 students have participated in our mini-courses, clubs and activities, and most importantly community projects. We have a district-wide afterschool program that is dedicated to making the community and the world a better place to live. At each school, there is a CCSR advisor who guides students in the development of Project Based Learning activities, individually and in small groups of 2 or 3 students. The student(s) select a project that they believe will help others or make the community a better place to live. A full list and description of the projects can be found on our 
project page.
Our public education system is the foundation of our democracy and the cauldron of the "melting pot". We believe that public and private schools must incorporate social-emotional learning, empathy, compassion, and citizenship in school curriculums to develop students leaders will who combat racism, bigotry, and hate. If we fail to do this, we miss an opportunity to have a profound impact on the kind of world that our children will live in.
Student-created projects are the major focus of the CCSR; however, the CCSR also provides SEL support for the school district. We provided motivational speakers such as Dr. Sanjiv Chopra of Harvard Medical School, Dr. Roberts Brooks, a Clinical Psychologist, and Richard Blanco, a renowned poet, who spoke in the Fall of 2019. In addition, when aligned with our mission, we have provided mini-grants for classroom projects, field experiences, and supplies and materials for students, faculty, and staff.
Check out our annual report here.
The CCSR was made possible by an unrestricted donation of $50,000 by Bloomberg Philanthropies in 2012. In 2016, the Cummings Foundation awarded the CCSR with a $100,000 (over three years) grant to continue our mission. The CCSR has collaborated with The Jonathan M. Tisch College of Citizenship and Public Service, colleges and universities, community groups such as Team Medford, government agencies, nonprofit organizations, and civic and public service organizations to help make the world a better place to live.
In light of all of the terrible national and worldwide tragedies, we strongly believe teaching children and adolescents how to be empathetic leaders and understand the plight of others are imperative to prevent such tragedies from happening again.
In September of 2018, the CCSR received a donation of $125,000 from the Boston Foundation in the name of Krystle Campbell Community Betterment Project which will support student-created projects that will help make the world a better place to live. One of these community betterment projects will be the development of student advocacy clubs for the protection of the environment. We are creating building based clubs with the acronym SAFE (students advocating for the environment) that will engage in informing the public and students of the imminent threat that global warming presents to the world. As well as working on projects that reduce air and water pollution.
TESTIMONIALS
"The Center for Citizenship and Social Responsibility (CCSR) has been beneficial for the
Medford Public Schools (district-wide). Not only are students gaining a great learning
experience, but the program has been an asset for individuals as well as organizations. The
CCSR program has a truly positive impact on our community, through student's creativity and
collaborative research; they are an example of social change. It has been wonderful to see
projects come to fruition over the past few years and I look forward to another year of success
for the CCSR program!"
Stephanie Muccini Burke – Mayor of Medford Massachusetts
TESTIMONIALS
"CCSR has started a revival in the Medford Public Schools to revolutionize education and instill
a strong desire in all students to personally stretch themselves and go beyond thinking about
their own personal needs. I have had the opportunity to see the student's excitement and
anticipation of working on individualized and group projects that will make a difference for the
voiceless and the boisterous in the world they live in. CCSR is comprised of a diverse group of
students who are multi-lingual, multi-ethnic and represent all walks of life who come together in
collaboration to make the world a better place. CCSR has provided my students with hope and
the belief that they can change the world…..and they will"
"The Medford Public Schools can prepare them to lead productive and rewarding lives, whether
they pursue college or head right into a vocational or technical career. My goal has always been
to level the playing field for all students, as education is truly the key that opens the doors of
opportunity for us all."CCSR empowers our students to look beyond themselves and see how
they can help others. It reaches all students, no matter, race, creed, religion, or sexual
orientation and offers them all a seat at the table"
Dr. Marice Edouard-Vincent – Superintendent of Medford Public Schools
TESTIMONIALS
"I was fortunate to be invited to speak last week at a Symposium on Addiction sponsored by
The Center for Citizenship and Social Responsibility (CCSR) in the Medford Public Schools.
The Center, which is headed by Richard Trotta, serves a vital need for Medford and is the kind
of program that I would hope to see in every community. Congratulations, Rich. You and your
group are doing wonderful work in enriching the lives of students and others."
Dr. Robert Brooks – Harvard Medical School and former Director of the Department of
Psychology at McLean Hospital
TESTIMONIALS
Ravindranath Tagore. Nobel Laureate once said: Every child comes with the message that God is not yet discouraged of man "I'm privileged to work with CCSR which is doing seminal work in nurturing young individuals to work together in harmony and to Lead in exemplary ways. Kudos to them for what has already been accomplished and to what magic will undoubtedly unfold in the years to come"
Sanjiv Chopra – Professor of Medicine and former Faculty Dean for Continuing Medical Education at Harvard Medical School, Senior Consultant in Hepatology at Beth Israel Deaconess Medical Center and author.
TESTIMONIALS
"CCSR – a program that emphasizes the development of character and which understands character as involving caring for the needs of those who are less fortunate and strengthening the community for all IS A GEM…and something our entire nation needs at this critical moment in our history. As we examine our current leaders, I don't think they suffer from low academic achievement. What is often in short supply is the empathy and caring that would actually make us stronger. You are not only adding value in Medford but you are contributing to a new generation that hopefully will become the leaders we all need. Supporting the efforts of the CCSR is extremely important. Citizenship and Social Responsibility are antidotes to so much of the hate, inequality, and disenfranchisement that plague our nation and our communities. I cannot think of anything that is more essential and critical to the future of our children and our society."
Dr. John D'Auria, University of Pennsylvania – GSE Division of Teaching Learning, and Leadership and former president of Teachers21
TESTIMONIALS
"The Center For Citizenship and Social Responsibility is a much needed and a remarkable effort to get children involved in understanding and acting on important social issues they otherwise may not recognize or care about. Not only will this have a positive impact on the world around us but it will at the same time help raise the level of self-confidence and self-esteem of thousands of children which truly is the foundation by which anyone can achieve and accomplish anything in their lives."
Dave McGillivray – President, DMSE Sports – race director, philanthropist, motivational speaker
TESTIMONIALS
"The only university-wide college of its kind, Tisch College studies and promotes the civic and political engagement of young people at Tufts University, in our communities, and in our democracy. Community partnerships are the foundation for Tisch College's community-engaged teaching, research, and practice. We facilitate community partnerships with more than 150 organizations, connecting academic learning to practice, and the Medford Public Schools' Center for Citizenship and Social Responsibility is a key partner in an important University host community. Working with CSSR, we are able to advance our shared mission to prepare all young people with the skills and knowledge for a life of service, civic engagement and leadership for social change."
Alan Solomont – Dean, Tisch College of Civic Life, Tufts University
TESTIMONIALS
"As schools are pushed to focus on academics many of the skills that students need to become emotionally strong productive citizens are ignored. The CCSR project by focusing on these humanitarian skills brings this element of education back into the schools. I have witnessed the excitement of these students as they work on projects to help others and the community. They are so proud of their achievements that benefit others. The projects not only foster empathy for others but also build the social-emotional skills for students that are critically important as they enter adulthood. As an educator I have seen many projects brought into the school districts. I can honestly say that the CCSR initiative is one of the most worthwhile of all. My hope is that it continues to grow in types of humanitarian projects and the number of students who participate."
Beverly Nelson – Former Deputy Superintendent, Medford Public Schools
TESTIMONIALS
"Engagement with CCSR is a privilege and worthy endeavor. Investing in our future through support of programs to educate our youth on citizenship and cooperation with others is paramount. The greatest gift we can extend to our collective futures is to engage youth in outreach and support of others in need. The benefits are self-evident in the joy one feels while extending themselves to the well-being of another. The fruits of these efforts will prosper generations yet to be."
Thomas M. Walsh – President, The Bridge Center A recreational facility to serve children with both cognitive and physical disabilities.
TESTIMONIALS
"The CCSR has been a fantastic organization in all of the Medford Public Schools l in helping to make the community a better place to go to school and live. This club knows the way, goes the way and shows the way in which we should all act in a civilized society. The CCSR students and advisers are wonderful role models in our community that do so much good. The CCSR has been wonderful in bringing programming at the middle school level to our students to present initiatives that have helped me improve the culture of our building. I look forward to working with the CCSR in many capacities in my new role as principal at the McGlynn Middle School."
Nicholas Tucci – Principal, McGlynn K-8 School, Medford Massachusetts
TESTIMONIALS
"Every mile of my personal journey was marked by someone who served as a mentor, role model or source of support encouraging me to chase my dreams. I truly believe that all children deserve the same opportunities to realize their own special gifts and goals in life. It's up to those of us who precede them to help pave their way, so they can make theirs a better world than the one they've inherited. I believe the CCSR experience will help our young people do exactly that."
Bob Socci – Mr. Bob Socci, Broadcaster, New England Patriots
TESTIMONIALS
"The CCSR has changed the landscape of how young people can enact real change in our schools and in our community. Under the leadership of the very dedicated Mr. Michael Skorker, these students have been empowered to make our world a better place. The CCSR uses an ideal model for education: students have a vested interest in their projects and therefore take full ownership and responsibility of the work. When I attended the CCSR fairs during the 2017-2018 school year, I was so very impressed by the breadth and depth of the social issues that the CCSR students are addressing within the Medford community and beyond; mature and poised students spoke passionately to me about myriad issues to which they have dedicated hours of their time. Because of the CCSR, young people at our elementary schools have a safe place to find a buddy, people in our community are more aware of issues of hunger and inequity in education, restorative justice models have begun to be put in place in Medford schools and churches, and that's just a small sample of the tremendous work they are doing. The CCSR students are an inspiration to all members of the Medford High School community. These young people are changing the world."
David Ambrose – Teacher at Medford High School
TESTIMONIALS
"I was very impressed by the student leaders who spoke recently at the Medford school board meeting regarding school safety. Rich then explained to me about CCSR. I think these kind of socially aware and responsible young people are clearly who we are seeing make a difference in our communities right now."
Mary Saladna – WCVD reporter
TESTIMONIALS
"Thank you for your leadership and support! Its leaders like you who have empowered World Unity, Inc. to persevere with its mission and vision. The school district is very fortunate to have a leader like you in their community!"
Sara Ting – President, World Unity Inc.
TESTIMONIALS
"Our collaboration with CCSR has come up a number of times during our visit to Montana. We have had a great time describing the CCSR program, mission and impact to not only Matt and Jess but some of their friends as well. As we describe the different student lead projects that we have learned about it caused Erin and I to reflect on all the wonderful work and impact on both the students and the greater community. Erin, Bonnie, Cameron along with the Campbell's are so excited to work with CCSR in the years to come. We are excited to see both the immediate and long term impact that our support can provide to providing students with increased opportunities to learn about leadership, diversity, social and global change!"
Elliot Nerland – The Krystle Campbell Foundation
TESTIMONIALS
"Working with the CCSR has been the most meaningful experience of my teaching career. I have the opportunity to work with students who are so passionate about helping others, giving back to the community and making the world a better place. They care deeply about our school, and are constantly thinking outside of the box as to how to make it better. As their advisor, I learn something from them every single day. It is an understatement to say that they have made me a better teacher, advisor, and a better person. I am inspired by the work of our CCSR Student Leaders, and I am so thankful to be a part of this incredible program. It makes me excited to go to school every day to know that we are truly making a difference."
Michael Skorker – Lead Teacher for SEL, Coordinator of the CCSR and MHS CCSR advisor
TESTIMONIALS
"In the world of education, curriculum and policy are often developed and dictated with little input from the people on the front line. The dire need for social awareness and collaboration is overshadowed by the enormity of high-stakes testing and the push to close achievement gaps. Social values, such as kindness, respect, and responsibility, once expected of home lessons, are easily pushed aside as busy, stressed parents struggle to keep their families merely fed and housed. This is the situation in some districts and, when even our youngest children cannot figure out how to play empathetically with one another, the problem becomes too real and enormous. For me, the CCSR provided me a platform. It validated what I knew inside my heart: that children, our future citizens, at their core want to be good people. They drank up the opportunities set up by CCSR to learn more about our military and veterans. They ran, willingly, down the hall so they wouldn't miss one moment of our club. Children who avoided each other during the day sat side by side, working together, listening to each other. Letters to soldiers provided a new appreciation for sacrifice and hard work. At another club, hydroponics plants thrived as the students experimented with ways to find alternative methods of sustainable farming. They conversed, kept notes, and logged what went right and hypothesized when things went wrong. They willingly tried methods offered by others. This was learning at its very essence. The CCSR allows me opportunities to expose my students to think collaboratively and critically. In our section of the world of education, the view is becoming brighter and improving every day."
Donna Laskey – M. Ed., Classroom Teacher, Grade 4, Mentor Coordinator, Medford Public Schools
TESTIMONIALS
"I think what makes the CCSR a truly unique organization is the strong family-like community and the support we give each other in pursuing our different passions to make the world a better place, one step at a time :)."
Emily Tan – MHS Senior & Co-President of the CCSR
TESTIMONIALS
"The Center for Citizenship and Social Responsibility has helped our student community to learn and give back to others. Additionally, they learn empathy and compassion for various cultures and ethnicities. I am so proud to have these students and their teachers as leaders in our Medford Community."
Diane J. Caldwell – Associate Superintendent, Medford Public Schools
TESTIMONIALS
"The CCSR provides a supportive and welcoming platform and community for student leaders to grow and develop. CCSR is important because youth have a way to contribute to their community through civic engagement and volunteer projects. This program is meaningful to me because of the positive and impactful service projects that have a direct effect in Medford and beyond."
Sophie Liu – MHS Class of 2019 and former Secretary of the CCSR
TESTIMONIALS
"The Center for Citizenship and Social Responsibility was and is a huge part of my high school experience. It's hard to believe it's been two years since I've joined, but the projects I've implemented, people I've worked with, and the changes I've seen are incredible to think about! I am so honored and Medford High School is so privileged to have this sort of initiative to make a change in the world! It means everything to me that I am able to give back to the community that has given so much to me!"
Shubhecchha Dhaurali – CCSR Student Leader, Class of 2019
TESTIMONIALS
"The CCSR serves as a great platform that allows students to work collaboratively to change the world on big scales and small. I've watched the organization grow from a modest club to one with over 70 members, and everything that has been accomplished can be attributed to the students of the club- who have had the guidance and support from Señor- but mainly it's the students that are the backbone, which is what makes CCSR so meaningful to me."
Jenny Lu – MHS Class of 2019 and former CCSR Co-President
TESTIMONIALS
"The CCSR has given me a gift of inspiration. I can mold and shape it into my own present for the world. I have become more aware of the community I have joined and want to help it progress. The things I have learned, the people I have met, and the experience I have gained will allow me to guide others. I am truly thankful for being a part of this amazing group."
Aniya Crump – CCSR Student Leader, Class of 2021
TESTIMONIALS
"I have been a student leader for the CCSR since my sophomore year and it has truly been a great experience! I had the chance to choose what project I wanted to do to help my community which I think is one of the best parts. The CCSR has helped the community of Medford in so many ways and I am honored to be a part of it!"
Jennifer Dossantos – CCSR Student Leader, Class of 2019
CCSR Videos
Check out the following videos to learn more about our organization