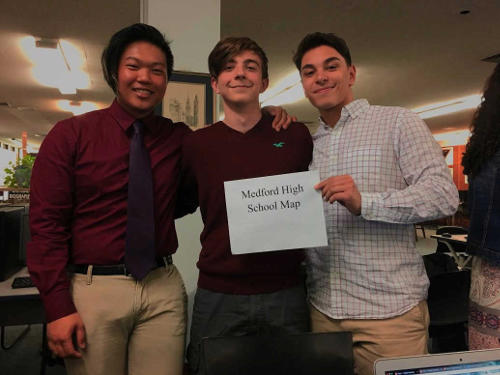 The Mustang Map
The transition from middle school to Medford High is difficult enough, and when Jacob, Jasper, and Lorrhan were freshmen, they wished they had access to a map. They established a bird's eye view of Medford High School, identifying each class by its building and room number, the three cafeterias, the gymnasium, guidance and principal offices, and the bathrooms. There is also a directory of the map which lists every teacher and their respective rooms. The Mustang Map not only benefits our students and teachers, but parents as well during parent-teacher nights. The Mustang Map is now available online for mobile use, thanks to the efforts of Darwin Do.
Click here for a tentative version of the Mustang Map
Please note that this is a temporary version and that the final map is still being worked on.
Project done by Jacob Ritchie, Jasper Su, Lorrhan Ferreira, Darwin Do
---